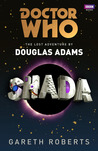 Doctor Who: Shada by Gareth Roberts
My rating: 4 of 5 stars
There is no hero like the Doctor. Though, he isn't super strong, nor he can fly, he doesn't have a big gun, so he's nothing like Superman or Hulk or Thor, he even doesn't come close to Ironman. However, he has exactly twice as many hearts as a normal human being, and he is a Timelord. Oh, and he can regenerate. Well, that one may count as a superpower. Instead of a giant spaceship he has a blue police box. OK, I have to admit it's capable of more crazy things like a spaceship, and it's super space-savvy. Because it's bigger inside. Really. I'm serious. If you don't believe me, let me put it this way: it's smaller outside. See now?
The story of Shada is totally Doctorish: full of surprises, twists and turns, sad and happy moments, and on top of all, full of humor. Just like the Doctor himself.
I started to watch Doctor Who when he regenerated into a new body which looked like Christopher Eccleston, and later, when he took the image of David Tennant I couldn't stop watching the show. So I'm not familiar with his previous looks, this is why the colorful scarf confused me for a while until I decided that I just should stick to the David Tennant image.
I really enjoyed the writing, Douglas Adams' wit shone through the whole story, Gareth Roberts did a fine job putting it together. Though, he could have spiced it with more descriptions, sometimes it felt like reading a screenplay.
You should read Shada if you want a few hours of good entertainment. Or if you want to travel in time. Or if you want to save the world. Or if you want all of these the same time.